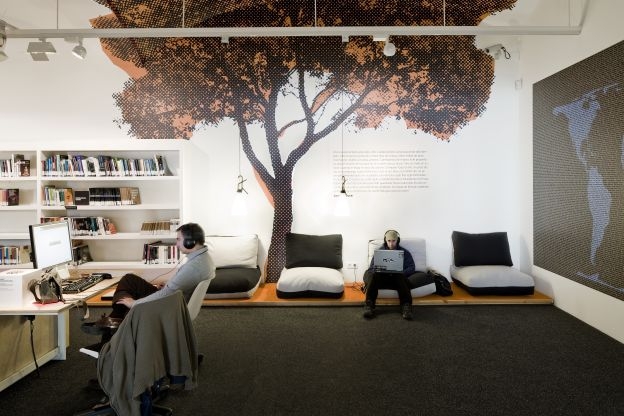 Taking into account today is the International Archives Day, we want to let you know that since last April CCCB Archive is involved in the project Free Software in Cultural Institutions (SLIC), a platform that brings together different cultural institutions of the State to create a system of joint research of the respective digital files. Taking advantage of the blossoming of digitalization and archiving processes being carried out at numerous cultural institutions, this project attempts to create a technological platform to provide different files and to allows users to navigate its virtual contents. The third meeting of this project took place in Hangar facilities and the participants were the following: Medialab-Prado (Madrid), Matadero (Madrid), Intermediae (Madrid), CA2M (Móstoles), Tabakalera (Donosti), Laboral (Gijón), Fundació Tàpies (BCN), Hangar (BCN), Hamaca (BCN), Mediateca Caixafòrum (BCN) and for the first time, also the CCCB Archive team.
We believe it is a very interesting project to be involved in because it moves forward towards sharing the knowledge generated from cultural institutions. It presents to the user the opportunity to directly access funds in these institutions, bringing the added value of simultaneous consultation. For the institutions themselves, it also means collaboration and sharing of privileged knowledge of new technologies and intellectual property files.
The objective of SLIC, as its name indicates, is to promote free culture with the use of technology and models of proprietary intellectual property. It is necessary to explore how each institution is adapting to these proposals. In the short term, SLIC (2010) is working in the definition of a first prototype of a technological platform. We are therefore in a first stage of defining needs and possibilities of the project, which makes participation even more stimulating. We will keep you informed of developments in this project, which, we believe, will soon begin showing its effects.