In this interview, Cristina Rivera Garza, director of the Ph.D. in Creative Writing in Spanish at the University of Houston – the first Ph.D. of its kind in the United States – gives us a master class on writing as a process and as a collective act of accompanying readers.
Reading Cristina Rivera Garza is a complete experience. Her work reaches many different places in our bodies and our hearts. It has a wonderful convening and gathering power. And it unites us. Somehow, reading Cristina Rivera Garza unites us. It calls us, it moves us, it welcomes us. Her literature is the gift of a wasteland where the only thing that grows is what we are able to build with it. And she is meticulous, selective, rigorous. Her creativity even generates the thought that allows her to write.
Indeed, reading her is a complete experience.
This year, I was lucky enough to interview her for the Centre de Cultura Contemporània de Barcelona. There were questions that I had been wanting to ask for some time, and conversations waiting to be had. I have always learned from her, and at the Lolita Campus for applied literary creation and research, which I direct, her books are works of reference. She has many. And despite finding in her a voice that we know how to identify, she is a brave writer who never stops investigating what else can happen when literature moves through her.
She has always sought out the borders to explain the periphery.
And she has taught us to look in those borders for the rotten roots of flowers that could have been beautiful. Sullied, humiliated, forgotten roots, which she brings back to life so they can sprout. Not only with her power of creation. Cristina Rivera Garza has always followed Cortázar's advice to the letter, which suggests always treating the reader as if she were the most intelligent person in the world. Which she is. And Cristina Rivera Garza is a writer who not only understands this, but honours it. Her voice is that of our community of readers but also of a social community.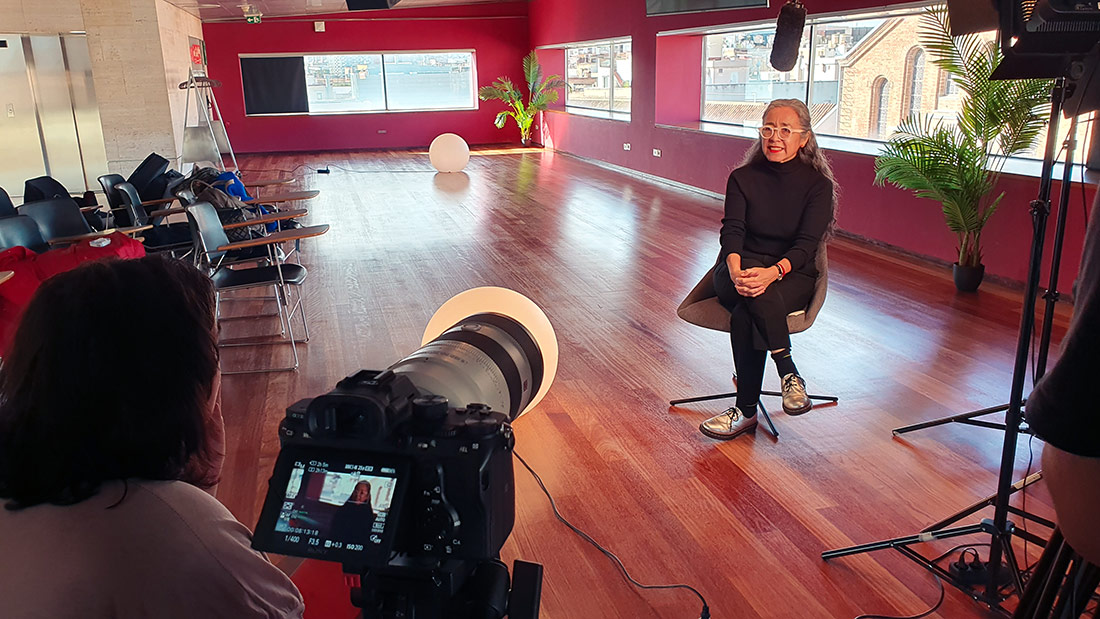 I have spent a large part of my life in Mexico, a country I feel at home in, and I remember when I discovered her books while living there. She is not much older than me, there are only six years' difference between us. But six years, when you are studying, is a long time. And even though she is not so much older than my generation, I have always considered her a teacher. I remember the dazzling power that struck me the first time I read her work. It was 1999, and it was her book Nadie me verá llorar (translated into English as No One Will See Me Cry). I bought it in a bookshop in the Coyoacán neighbourhood of Mexico City. And reading it was one of those moments when you take stock of the road travelled and are propelled to a new place. A discovery. Then I continued reading her: Lo anterior, La muerte me da; and more recently Autobiografía del algodón and the letter of love and struggle that is El invencible verano de Liliana (Liliana's Invincible Summer in its English edition).
But before that. Between the first reading of her narrative work and the last, I discovered in her a socially responsible voice that became an almost ethical touchpoint. Dolerse (Grieving), Los muertos indóciles and Condolerse are books that I have used for more than just my personal reading and the research campus. They are almost bricks for intervening in our societies. Almost certainties. But Cristina Rivera Garza is always with us. In our social concern and our gender struggle, in a historical dignity that is imprinted on her; just read her fabulous book La Castañeda about an insane asylum in the Mexico City of the early 20th century. Read her studies on the literary voice, its creation and its impact. She is a strong, global, deeply intimate and social writer.
I remember reading her at many moments in my life.
And I remember feeling that she was always with me.
She is one of those master writers. A writer who investigates without fear of being wrong, an artist who shelters us in the worlds she creates and shines a torch on this world we walk in. And to give a button-sized example, her latest published work, El invencible verano de Liliana, has almost become a new genre. In Mexico it has brought about much-needed changes and marvellous encounters. Her voice when she writes about the feminicide of her sister is also our voice, equally painful, desperate, uncomfortable and impotent. But she manages to make our voices heard over those of the aggressors; in the face of defeat, she manages to impose not her voice, but ours; she manages, I would say, to make us win. She does it for us, for literature and for herself. She does it for the country she comes from and for all the countries she inhabits. And she does it, above all, for her sister. A brave, strong, intelligent woman who was murdered by her partner – another man who got away with his crime.
Cristina Rivera Garza waited until she had a strong career before writing what I would say is, emotionally, her first book. Literature accompanied her until that terrible moment when she decided to tell herself the truth, to reconstruct it and to ask us to walk with her on this journey. "Liliana, we won't forget you" can be read today on banners and graffiti at demonstrations in Mexico. Her death now concerns all of us because it speaks about all of us. But to achieve this, Cristina Rivera Garza, with the natural elegance with which she writes, has not resorted to emotion but to astonishment. Of course it moves us, of course it shakes us, but it also focuses us. She manages to put her sister in the exact place where society should have put her. And to make her cry our own. We are with you, sister.